Sailing to Forever
by Judith Yarrow
One rainy November night in 1969, sitting at a worn vinyl booth in Casey's Bar in Tacoma, my partner Ed and some of his buddies started talking about sailing around the world. Tropical waters, tropical nights. Who knows what they were fantasizing, but when he recounted their conversation to me later, the fantasy woke up in me and whispered, adventure.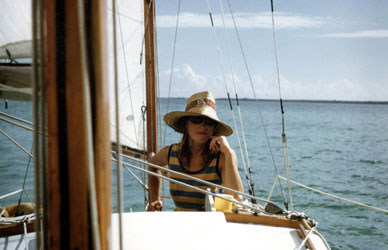 I started reading every sailing travel book I could unearth in the Tacoma Public Library. The most gripping tales were full of disaster: shipwrecked on coral reefs, rolled over by forty-foot waves, dismasted and deck houses torn off, sails shredded, the sailors saved by luck and will to write the tale and sometimes go back to repeat it. The disastrous close calls made for thrilling reading but my dream was full of soft breezes, easy landfalls, long days lazing in the sun, snorkeling, and spear-fishing.
The sailing enthusiasts dwindled to Ed, me, and Sky, one of the barroom dreamers. We decided to test our enthusiasm for a round-the-world adventure on a smaller trip—cruising the Caribbean. Our next-door neighbor, a boat designer, had a boat in dry dock in Ft. Lauderdale. A ship surveyor inspected it and judged it sound. We bought it sight-unseen for $2,400. Read more (PDF).
One-time reproduction for non-resale purposes permitted with the following credit line: by Judith Yarrow, © 2016