Welcome to Yarrow House
Home of Judith Yarrow's art and writing, and the Signe Hanson Memorial site.
New in Yarrow House
Sailing to Forever
One rainy November night in 1969, in Tacoma, we decided to sail around the world.
Small Towns of Seattle
Seattle is a collection of neighborhoods that once were small towns.
One rainy day I explored Fremont.
When I remodeled my house, I moved to Ballard for the summer.
Looking for childhood memory in Georgetown.
Remembering the early people in Indian Ghost Towns
My local hangout has been Columbia City
One of Seattle's most separate small towns is West Seattle
Another separate neighborhood is Beacon Hill.
I'm Not Color Blind: Race in My Life
Why am I not color blind? How is it, after all these years of valuing interracial equity, that racial awareness is still alive in me? And more importantly, what can I do to erase that automatic racial awareness?
Perils of an Expat in Japan: Demotion in Status
Most white Americans never have to deal with the effects of racism. When I lived in Japan, I had the opportunity to experience firsthand what my fellow, dark-skinned Americans live with all their lives.
On Producing a Book with My Mother
Also
Check out the Reading Room for more stories and poems.
Available from Court Street Press:
Taught by Life: Art and Stories, by Roosevelt Lewis
Take Time, Yah: Tales from Liberia, and 
You Never Try, You Never Know: Six Years in Liberia, by Ruth Jacobson 
For the family, a memorial to my grandmother, Signe Fries Hanson.
My neighborhood project, the Charlestown Hillclimb development, is complete. Now it's weeding and watering while the plants get established.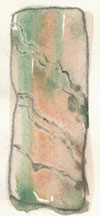 We often think that when we have completed the study of one, we know all about two, because "two" is "one and one." We forget that we have still to make a study of "and." 
—Eddington
Links