Take Time, Yah: Tales from Liberia
In 1971, Ruth Jacobson, a registered nurse, and her husband, Harold, a maintenance mechanic, both in their 50s, volunteered for Peace Corps and were assigned to Liberia, in West Africa.
Many of these 20 little stories and anecdotes are about the challenges of providing community health care in a culture very different from her own. Ruth reflects on the transportation challenges of providing a vaccination program to villages in the bush and people's attitudes toward the death of infants, the power of the spirit world, and the effects of the belief in witchcraft. Ruth also describes such events as capturing a pangolin that invaded her home one night, going to check a corpse for smallpox, and people's changing attitudes toward the roles of men and women.
Ruth's generous, but pragmatic, attitude toward her work and the people she lived among will give readers an entertaining and realistic view into the life in rural Liberia in the 1970s.
Interview article on Ruth. Nisqually Valley News July 20, 2012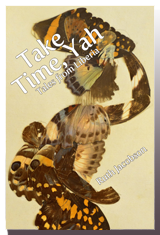 Perfect bound, soft cover
6 x 9, 64 pages
22 photos, 3 illustrations
ISBN 978-0-9647444-4-8
$10.95
plus shipping & handling
EBook available from: Amazon Kindle Store
Questions?
info@courtstreetpress.com